Summit Equips Participants to Take Action on Health Inequity and Stigma Related to Substance Use Disorder in Rural Communities
Image

For continuing education credits, please register and view modules on this website.
UR Medicine Recovery Center of Excellence hosted the Taking Action National Rural Substance Use Disorder Health Equity and Stigma Summit May 18-20, 2022, at the Eastman School of Music in Rochester, NY.  A hybrid in-person and virtual event, the summit convened a diverse group of people with deep knowledge of the issues and dedication to finding solutions to discuss how stigma and health inequity increase barriers around substance use disorder (SUD). More importantly, presenters shared their knowledge, perspectives, and experience about how to overcome stigma and health inequities and more effectively address the SUD crisis in rural communities.
Speakers included people with lived experience of SUD, artists, authors, providers, researchers, policymakers, and advocates. Participants were encouraged to connect with presenters and one another to grow their network of similarly committed colleagues, candidly discuss stigma and health equity related to SUD, and share strategies and solutions.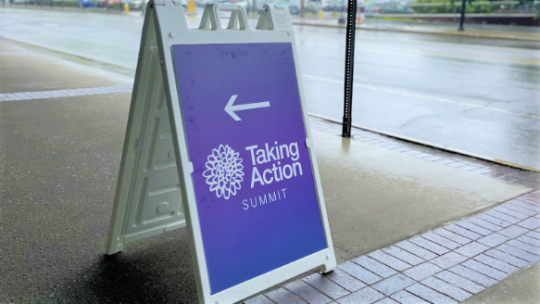 The goal was to energize, inspire, and equip participants with knowledge and new, actionable strategies to address SUD, dismantle stigma, and improve health equity in their communities. By sharing and disseminating learnings during the summit and now through this resource page, we hope to advance those objectives in rural communities nationwide.
We encourage you to browse through the list of speakers below, which included: Uché Blackstock, M.D., whose organization Advancing Health Equity is working to dismantle racism in health care; Beth Macy, author of the best-selling book Dopesick (now a Hulu series); Sam Quinones, author of the award-winning books Dreamland and The Least of Us; Leonard Buschel, director of the REEL Recovery Film Festival; Tony Hoffman, former BMX Elite Pro and founder of the Freewheel Project; and Peter Gaumond and Robert Kent of the White House Office of National Drug Control Policy.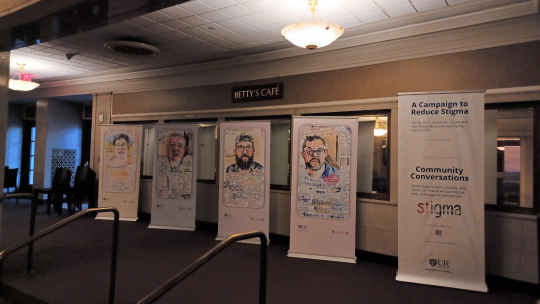 Links to many presentations and further information can be found within the table below, and we will be adding additional articles about the subjects explored at the summit.  
Session Recordings/Details
Recordings of some sessions are available. Please click on the link below the Recording/Details information.
For continuing education credits, please register and view modules on this website.
Date

Session Title

Presenter(s)

Session Description

Recording/

Details

May 18, 2022

HRSA—Using Policy and Programs to Improve Health Outcomes and Address Disparities

Tom Morris, MPA

Associate Administrator for Rural Health Policy, Health Resources & Services Administration, U.S. Department of Health & Human Services

Tom Morris provided an update on the Health Resources and Services Administration (HRSA), its mission to improve health outcomes and address health disparities, and how the agency accomplishes that through policies and programming. He explored the Rural Communities Opioid Response Program (RCORP) initiative and discussed how we can change the way we write and talk about rural communities to reduce biases and stigma.

Promoting Equity and Addressing Stigma in Rural Communities: An Overview of Biden-Harris Administration Priorities and Actions

Peter Gaumond*

Senior Policy Analyst/Chief, Recovery Branch, White House Office of National Drug Control Policy

Robert Kent*

General Counsel, White House Office of National Drug Control Policy

 

The Biden-Harris Administration's inaugural National Drug Control Strategy prioritizes addressing inequity and stigma nationally. In rural communities, especially, inequity and stigma can discourage help-seeking among individuals with substance use disorder and their families, and can impede the actions communities need to take to recover from the impact of substance use. Many people with or in recovery from substance use disorder have a history of criminal justice system involvement, which brings with it additional stigma and barriers to full community reintegration. During this session Peter Gaumond and Rob Kent drew upon the 2022 National Drug Control Strategy to provide an overview of relevant federal priorities and actions being undertaken to address these challenges and build more resilient rural communities. At the conclusion of the session, the presenters solicited input from summit participants on what, in their experience, is most effective in addressing substance use and its consequences in rural America.

Recording unavailable

2022 National Drug Control Strategy

Article: White House Analysts Discuss Multifaceted Effort to Overcome Overdose Crisis

Understanding the Roots of Health Inequity and Stigma

Gem Daus, MA

Public Health Analyst, Office of Health Equity, Health Resources & Services Administration; Adjunct Professor of Asian American Studies, University of Maryland

This session focused on a training intervention to help public health professionals understand and change dominant narratives about health, inequity, and stigma.

Recording unavailable

 

Office of Health Equity, Health Resources & Services Administration

Families Impacted by Addiction—Meeting Them Where They're At

Alexis Pleus

Founder & Executive Director, Truth Pharm

 

A mother who lost one son to overdose and has another who has recovered, Alexis Pleus immersed herself in research and advocacy and working with families impacted by substance use disorder (SUD). She founded Truth Pharm, which develops tools to educate, empower, and heal families impacted by a loved one's SUD or the loss of their life. Truth Pharm works to dispel myths and dismantle the stigma faced not only by people who use drugs, but by their families. Pleus shared approaches to empower families to speak their truths, advocate for themselves and their loved ones, enable harm reduction, and reduce conflict so they can form loving relationships despite the challenges.

At a Crossroads: How Place, Data, and Identity Impact Suicide Prevention for Sexual and Gender Minority Communities 

John Blosnich, PhD, MPH

Assistant Professor & Director of the Center for LGBTQ+ Health Equity, Suzanne Dworak-Peck School of Social Work, University of Southern California

 

This presentation explained the extent of suicide morbidity disparities among sexual and gender minority (SGM) people and unique risk factors related to interpersonal and institutionalized stigma. It included a summary and comparison of data collection methods to support SGM health equity research. Discussion focused on how current research does or does not take into account the experiences of rurality and capacity of rural areas to answer the call for health equity by their SGM community members.

Recording

 (partial audio missing)

Article: Improving Prevention and Care Outcomes for LGBTQ People: Safer Spaces and Better Data Collection

Racial Health Equity in Rural Addiction Treatment: Considerations for Treating Minoritized Populations in Rural Settings 

 

Myra L. Mathis, MD

Senior Instructor & Addiction Psychiatrist, Department of Psychiatry, University of Rochester Medical Center

 

This session discussed unique considerations in substance use disorder treatment for Black, Indigenous, and Latine populations living in rural settings.

 

 

A Community Conversation on Opioid Use Disorder

Tedra L. Cobb, MSEd

President, Tedra L. Cobb and Associates

Ken Sayres, MA

Health Project Coordinator, UR Medicine Recovery Center of Excellence

Erin Mattison, MPH

Health Project Coordinator, UR Medicine Recovery Center of Excellence

Participants in this workshop examined the definition and impact of opioid use disorder stigma on their rural community and identified ways to reduce stigma, biases, and negative perceptions around recovery. Participants increased their understanding of resources and tools available in combating stigma. 

Breaking the Stigma

Tony Hoffman*

Co-founder of pH Wellness

Tony Hoffman candidly shared his life story and experiences as a person in long-term recovery since May 17, 2007.

Recording unavailable

Article: Tony Hoffman Highlights the Costs of Institutional Stigma

May 19, 2022

Mobilizing for Health Equity

Uché Blackstock, MD*

Founder & CEO, Advancing Health Equity

 

This presentation discussed the concept of health equity and described how structural inequities produce differential health outcomes and disparities. Participants learned about the historical and current-day impact of structural racism on health equity, structural competency, and the relationship between structural competency and the social determinants of health. Dr. Blackstock also shared practical strategies to effectively mobilize for health equity.

Recording unavailable

Article: Causes and Consequences of Racial Health Inequities

 

Addressing the Stigma of Substance Use Disorders

Lisham Ashrafioun, PhD

Assistant Professor, Department of Psychiatry, University of Rochester Medical Center; Research Investigator, VA Finger Lakes Healthcare System

This presentation provided a broad overview of various types of stigma of substance use disorders (SUD), their consequences, and potential ways to address them. It focused on specific strategies that are being used to address provider and community stigma of SUD in the Appalachian region and facilitated discussions around other strategies that can be employed.

 

Historical Trauma and the Health Disparities That Perpetuate in American Indian/Alaska Native Communities

Dean S. Seneca, MPH, MCURP

Founder & CEO, Seneca Scientific Solutions+

This presentation covered the historical trauma that indigenous populations have endured over a very short period and the persistent health disparities that reverberate in tribal communities because of this trauma.

 

Stigma and Bias in the Treatment of Substance Use Disorders: Clinical Impact and Opportunities for Change

Peter R. Jackson, MD

Assistant Professor of Psychiatry, University of Vermont Larner College of Medicine

 

Stigma associated with substance use and addiction dramatically impacts individuals affected by substance use disorders, their loved ones, and those with opportunities to provide clinical care. This is particularly true, with unique additional challenges, in rural areas. Dr. Jackson discussed how recognizing, preventing, and decreasing stigma at an individual, family, community, and systems level represents a critical, often pivotal first step in improving access to and engagement in treatment. He also examined how better understanding of the neuroscience and social science around etiology of SUDs enhances compassion and supports evidence-based treatment approaches for these conditions.

Bridging the Gap: Utilizing Peer Support Services Every Step of the Way

Yara M. Castro, BS

Health & Social Services Manager, Mariposa Community Health Center

Martin Felix

Jail Liaison, Santa Cruz County Justice Court

Kassandra Figueroa

Peer Navigator, HOPE, Inc.

In this session, participants were informed about how to assemble a network of community partners to address the needs of the substance/opioid use population in a rural, predominantly Hispanic community to create systemic changes. Participants explored how utilizing peer support is critical both for individuals in recovery and to strengthen coordination of care across systems, i.e., behavioral health, medical, prisons, and other services. They learned about a system that integrates prevention, treatment, and recovery services to address the needs of individuals with substance use disorder/opioid use disorder.      

 

Article: Critical Role of Peer Specialists in Recovery: An Example

The ROADSS Model: Removing Barriers on the Road to Recovery

Patrick Seche, MS, CASAC

Senior Director of Addiction Services & Senior Associate, Department of Psychiatry, University of Rochester Medical Center

 

The Rural Opioid and Direct Support Services (ROADSS) model seeks to ease the burden created by lack of access to methadone treatment in order to help patients find the resources they need close to their community. The program involves a partnership between an opioid treatment program, which may be in an urban location, and rural organizations outside of metropolitan areas to establish medication units as well as a mechanism for making comprehensive psychosocial services available to patients.

Trickster Tails: Cultural Considerations in SUD Care

Danica Love Brown, MSW, PhD 

Behavioral Health Programs Director, Northwest Portland Area Indian Health Board

 

For Tribal people on Turtle Island, current and past political and social events help shape the context of their lives in ways that many other Americans do not experience. Dr. Brown discussed how the study of trauma—historical and present—has connected historical genocide, assimilation, oppression, and disparate treatment to such symptoms as depression, suicidal thoughts, anger, anxiety, and low self-esteem, as well as difficulty recognizing and expressing emotion. She also examined the impact such trauma has on substance use.

 

The Impact of Addiction on Families and Families on Addiction

Brady Heward, MD

Assistant Professor of Psychiatry, University of Vermont Larner College of Medicine; Co-Director of Clinical Affairs, University of Vermont Center on Rural Addiction

In addition to the impact of genetics, families influence addiction and substance use through social interactions and the physical environment. Moreover, substance use by an individual can severely impact the mental health and well-being of other members of the family.  Understanding treatment options for an individual and their family as well as state and local policies and practices can aid in the appropriate course of treatment of people who use drugs.

Recording unavailable

America and Hope in the Time of Fentanyl and Meth

Sam Quinones*

Journalist & Author

 

The author discussed how and why we entered the synthetic drug era—principally due to traffickers supplying fentanyl and methamphetamine. How that has created widespread overdose death as well as increased mental illness, homelessness, and tent encampments in American communities. And why small-scale, local efforts at community repair are our best defense. 

Recording unavailable

Article: For Two Award-Winning Authors, Community is Crucial to Overcoming the Overdose Crisis

Well-Intended Stereotypes and My Role in the Recovery Movement

Kelly Quinn, CRPA-F, RCP

Community Outreach Specialist, Strong Recovery, University of Rochester Medical Center

Kelly Quinn brought awareness to well-intended language that can still be stigmatizing to the recovery community and provided an overview of "categories" of members within the recovery movement, such as allies, family, and people diagnosed with substance use disorder. Participants learned new tools to shift the conversations to empowerment and pro-recovery while giving primary agency to individuals with an SUD.

 

Poverty and Inequality in Appalachia

 

Cynthia M. Duncan, PhD

Professor Emerita, University of New Hampshire; Senior Fellow, Meridian Institute

Drawing on her book Worlds Apart: Poverty and Politics in Rural America, Professor Duncan described how rigid distinctions between the "haves" and "have-nots" in Appalachia trap the poor. The poor are stigmatized, blamed for their poverty, and often deliberately blocked from opportunities for education and work. Inequality erodes the social fabric, and institutions that could provide a ladder are undermined by corrupt politics. When opioids engulf the region, these community factors make it more difficult to address the needs of those caught up in the crisis.

Reducing the Shame and Stigma of SUD

Marcus Buchanan, PRSS

Outreach Coordinator, Cherokee County Health Services Council

Dusty Rollice, PRSS

Peer Recovery Support Specialist, Cherokee County Health Services Council

 

To make the discussion more relatable, Marcus Buchanan and Dusty Rollice shared their personal recovery stories throughout this presentation on stigma, which was created by Overdose Lifeline. Topics included a brief description of stigma, types of stigma, and how to combat stigma.

Indigenous Values and Knowledge Leading Us Through Healing and Recovery

Lisa Sockabasin, MS, RN

Co-CEO, Wabanaki Public Health & Wellness

Lauren Stevens

Culture, Connection & Support Division Director, Wabanaki Public Health & Wellness

This session discussed how indigenous values of love, service, and connection lead the approach taken by the Wabanaki Public Health and Wellness team as they address historical trauma while centering generational strength. The presentation explored indigenous values and their role in creating healing.

Recording unavailable

Challenges to Rural Behavioral Health Service Providers

Robert A. Ross

President & CEO, St. Joseph's Addiction Treatment & Recovery Centers

This presentation discussed challenges rural providers of behavioral health services face in complying with regulations from state agencies, receiving adequate funding due to diseconomy of scale for operating costs, insufficient recognition of transportation challenges, and recruiting and retaining qualified staff.

Dopesick: How We Got Here, Barriers to Fixing the Opioid Crisis, and How to Erase Stigma

Beth Macy*

Journalist & Author

 

Author Beth Macy discussed the overdose crisis: how we got here, what the barriers are to fixing it, and, specifically, how to erase stigma from the conversation. She drew upon research from her book Dopesick as well as from her forthcoming book, Raising Lazarus: Hope, Justice, and the Future of America's Overdose Crisis.

Recording unavailable

Article: For Two Award-Winning Authors, Community is Crucial to Overcoming the Overdose Crisis

May 20, 2022

Reject Complacency: Time for an Active, Comprehensive, and Passionate Fight Against the Opioid Crisis

Leonard Lee Buschel, CAADAC*

Founder, REEL Recovery Film Festival; Editor, Addiction/Recovery eBulletin

Where is the outrage? Overdose rates increase every year. Why is no one discussing the problem from a psychological perspective? Why do young Americans risk their lives for 90 minutes of bliss? Why isn't Big Pharma being forced to cover the funeral expenses for all 100,000 overdose victims last year? These thought-provoking questions and more were discussed during this session.  

Recording unavailable

Presentation (Addiction/Recovery eBulletin)

Peer Recovery and Lived Experience

Gina Brockway, CRPA

Peer Recovery Specialist, CASA Trinity

Gina Brockway discussed her personal experience with substance use disorder (SUD), her ongoing recovery, and how they inform her role as a peer support specialist working with individuals in a rural community to overcome barriers on their recovery journey.

Information Messages to Reduce SUD Stigma and Increase Recovery Housing Support

Madison Ashworth, MS

Research Associate, Fletcher Group, Inc.

Robin Thompson, DrPH, MPH

Director of Research & Evaluation, Fletcher Group, Inc.

 

Madison Ashworth and Robin Thompson discussed findings from a survey experiment that tested the effect of four different information messages that varied in the perceived social distance between the survey participants and people in recovery housing. Specifically, the interventions included one data-heavy message about the effectiveness of recovery housing, and three contact interventions with an individual explaining how recovery housing helped them that varied in the anonymity of the storyteller. Effect of the interventions was examined across rural and non-rural participants on community stigma, political support of the recovery house as measured by willingness to sign a petition supporting recovery housing in one's state, and financial support as measured by donations to the National Alliance for Recovery Residences.

Wearing Two Hats: Being an Addiction Professional and Being a Person in Recovery, Being Happy, Joyous and Free, Even of Stigma 

Charles W. Morgan, MD, DFASAM, FAAFP (Charlie)

Health Equity Advocate & Addiction Medicine Specialist

 

Dr. Morgan is a person in long-term recovery who is also a locally, regionally, and nationally recognized authority on the treatment of addiction with over four decades of experience. In this session, he examined the origin of stigma that can occur from professionals as well as from people with addiction. He also delineated solutions. The session asked people to examine themselves and extended the examination to various modalities of treatment, such as utilizing medications and mutual support groups. Aspects of the human condition and the science underlying the brain disease were included in the discussion. 

 

Postoperative Narcotic Prescribing

Jacob Moalem, MD, FACS

Professor of Surgery & Endocrinology & Director of Quality Improvement for the Department of Surgery, University of Rochester Medical Center

This session discussed the role that surgeons have had in the opioid epidemic and an approach to empowering surgeons to make more conservative, informed decisions regarding opioid prescribing after surgery.

 

Opioid Overdose Prevention Training 

Michele Herrmann, BS

Program Manager, UR Medicine Recovery Center of Excellence

This training is designed to educate participants about the opioid crisis, prevention strategies, and how to recognize and respond to an opioid overdose. 
* Keynote speaker