UR Medicine Recovery Center of Excellence
Image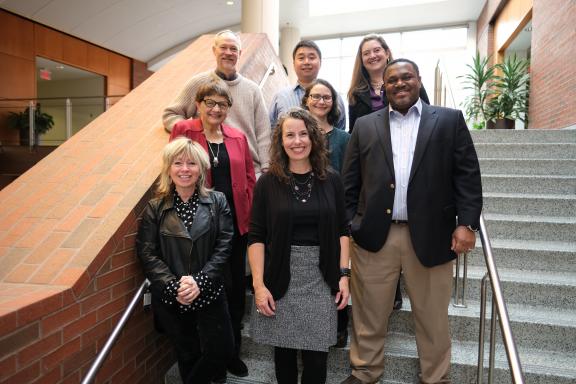 Our group from University of Rochester Medical Center has over 15 years of experience responding to the mental health and substance use disorder (SUD) crisis within rural Appalachian communities in New York. Through the UR Medicine Recovery Center of Excellence—established in fall 2019 by the Health Resources and Services Administration's Rural Communities Opioid Response Program—we are now able to take on the crisis more aggressively and on multiple fronts.
The center is working to reduce the harmful effects of SUD—including those related to synthetic opioid use—through three interconnected efforts:
1. Partnering with Appalachian communities
We are working with specific counties in Kentucky, New York, Ohio, and West Virginia to understand what the opioid crisis looks like in their communities. By listening to their needs and learning how they are already working to address synthetic opioids and other substances, we can then use our resources to amplify their voices and support their efforts.
As partners, we identify evidence-based practices, adapt them for rural communities (as needed), and share information about those programs broadly. We connect and support organizations and communities as they work to implement best practices.
2. Building an ecosystem of recovery in New York's Southern Tier
We are also testing emerging best practices in a specific region, the Southern Tier of New York. In rural communities in New York, we are building an ecosystem of recovery to meet patients where they are, bring them into care, and establish a network of support after initial treatment.
3. Synthesizing wisdom and providing technical assistance
As we pursue our first two goals, we are synthesizing wisdom across these regions, pulling together experience born in rural communities here in New York and in our counterpart communities in West Virginia, Ohio, and Kentucky.
We are building a storehouse of resources about emerging and evidence-based practices that rural communities around the country can use as they address the crisis.
Our Technical Assistance Center (1-844-263-8762, URMedicine_Recovery@urmc.rochester.edu) answers questions and offers support to communities across the United States, helping them learn how to implement evidence-based practices independently.