Image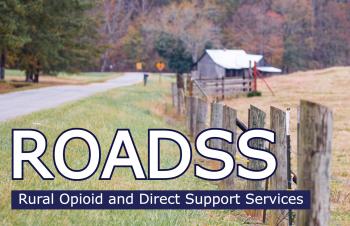 Introducing ROADSS
February 26, 2021
Rural Opioid and Direct Support Services (ROADSS) for Methadone Maintenance Treatment
Origin
Methadone, a form of medication for opioid use disorder (MOUD), is one of the most valued forms of MOUD for those with opioid use disorder (OUD).1 It is a leading evidence-based practice according to the CDC in the treatment of OUD.2 Despite its efficacy there is still limited access to methadone in rural counties, which creates a treatment barrier for individuals with OUD.3 The Rural Opioid and Direct Support Services (ROADSS) model was developed in August 2019 to increase retention in methadone treatment programs while providing support for opioid treatment programs (OTPs) in rural communities. Providing auxiliary medical units in sparsely populated rural regions will increase access to treatment for those with OUD,4 reducing the barrier of distance.5 The model was developed at the University of Rochester Medical Center in Western New York by Strong Recovery, which includes three outpatient clinics providing substance use disorder treatment: an OTP, a chemical dependency program and an adolescent/young adult program.
Summary
Given federal, state, and local regulations as well as political and societal factors, a full-scale OTP may face financial and operational obstacles in communities with low population density. The ROADSS model addresses this challenge by focusing the OTP's program management, prescribing, and counseling at one centralized location that may be situated outside of these communities while providing secure dispensing of medication at multiple smaller auxiliary facilities. The ROADSS model builds upon research on partnerships between urban and rural communities that reduce the regulatory burden on rural medical clinics.6
The ROADSS model and similar methods of delivering methadone to those with OUD in rural communities are an emerging trend, with initiatives in the state of Washington,7 by the University of Vermont,8 and at Community Medical Services (a large opioid treatment organization in Arizona).
This model is well-suited to supporting rural communities and, while complex, can be accomplished with appropriate planning and support. The ROADSS model has a large centralized clinic with support services and additional programing. This clinic supports smaller medical units that can dispense methadone and provide links to additional supports. The first priority for the centralized OTP location is to secure community and organizational support, identify dispensing sites that are appropriate and well-received by the communities themselves, secure renovations funding, apply for requisite authorizations, and develop policies and workflows to ensure community comfort and success.
Outcomes & success
The ROADSS model is still emerging as a best practice. Rural communities are complex and could lack resources like providers and support services.9 Outcomes of the ROADSS model will be analyzed and challenges addressed.
Through ROADSS, UR Medicine Recovery Center of Excellence aims to support OTPs and other organizations involved in OUD treatment as they work to increase access to methadone in a way that is well-designed and in keeping with the community vision. The center will be expanding this website to include regulatory information, resources, and tools relating to this multisite approach. For more information, please contact our Technical Assistance Center.
References