Reducing Stigma in Rural EDs and Other Care Settings
Image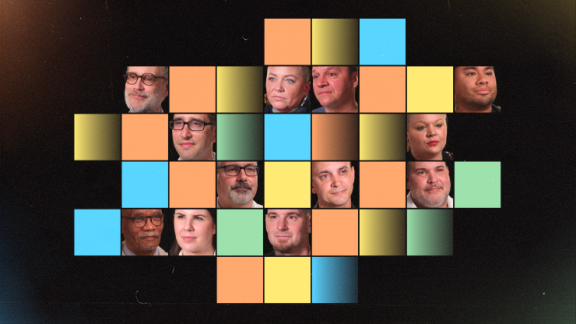 Learn more about addressing stigma in care settings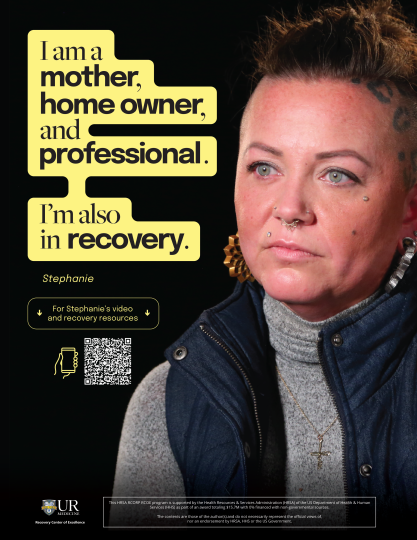 I am a person living in recovery. I found recovery October 9th, 2016. It's daily, rent's due every day for it, so I gotta put the work in every day, but it's led me to places I never dreamt of. Getting everything back that I thought I would never have again.
I destroyed friendships, relationships with my family. I lost my kids. I lost my license, my dignity, like I lost and gave away everything. And I've put the work in to get it back, and now I'm like stable, and I never thought that would be.
I really thought I would die behind a building. Now I have a car, and a good job, and I can pay for my kids to go to sports. And I bought a house last year. Like things more than my wildest dreams.
And I wouldn't trade it in for anything because I've learned so much. I've met the most beautiful people. It's given me a different perspective on life. My husband had to carry me into the hospital, and...
I just remember not feeling safe still, judgmental eyes, not really being talked to, but talked at. And I already felt ashamed, like here I am, about to die from doing drugs, and I literally only wanna leave and do more. And it took me a long time to wrap my head around the insanity of that. When we're ready, that moment, we need that radical compassion, that cheering, and let's do it, let's get you into treatment somewhere, because that's the beginning of an amazing cycle when we can keep that up for someone.
Stephanie, a mother and homeowner who is 6 years in recovery, shares her experiences and achievements. "I really thought I would die behind a building. Now I have a car and a good job, and I can pay for my kids to go to sports," she says.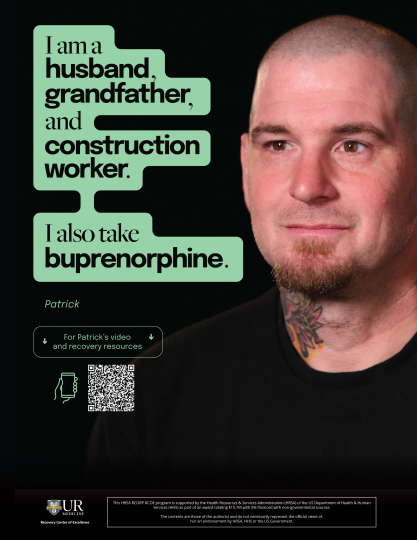 My name's Patrick, I'm 41 years old and I'm a person living in sustained recovery. Eight years ago, I decided to take my life back. So I live in LeRoy, you know spent most of my life living outside the box in rural areas. I'm really, really proud of to say that I'm in recovery and I don't hide it, I'm not ashamed because I'm in recovery, and I, you know, I tell it loud and I tell it proud.
Like, yeah, I used a lot of drugs in my life but I'm living proof that your life can change. I'm living proof that there's life after addiction. Just remember, we're human, we have feelings. We're not stone cold junkies as I believe a term I've heard before.
We're people, we have families, we're brothers, we're husbands, we're sisters, we're mothers, we're cousins, we're the people who serve your coffee. You know, we're the people who fix your car. We're not just the drug we ingest. I overdosed 44 times, 22 times I was dead, and brought back by NARCAN, and every time it was an emergency room visit, you know, the ambulance wasn't always called, but you know when it was, the emergency room was where I would go and it always led to dread.
I dreaded going to the emergency room. You feel the eyes on you. You know, my dad used to say, "The eyes are the windows to to your soul and you can see what people think about you just by how they look at you." And that was one of my biggest fears was I would wake up from the overdose and I knew immediately that I would have to just face the ridicule or the scrutiny, or just, you know, people looking at you like you're trash.
I got a piece of glass in my eye and I had to go to the emergency room and the doctor was just absolutely amazing. She used my full name and that really, really, that really resonated with me. 'Cause you can, you just feel it when somebody's looking you in the eye and they're using your name and they have compassion in their voice, and their eyes show the compassion, and their face shows it, you know it, you feel it. And it just kind of put me at ease and it was almost instantaneous, you know, as soon as she came in, it was one of them things, where okay this isn't gonna be one of those times where I have to leave out of here without getting the care I need.
Yeah, that's definitely, I'll remember that for the rest of my life. (no audio)
Patrick, a construction worker who is 8 years in recovery, was highly stigmatized in the ED until a welcoming encounter with an ED provider who showed genuine interest in him. "When somebody is looking you in the eye and they have compassion in their voice and their eyes show compassion . . . you know it, you feel it," he says.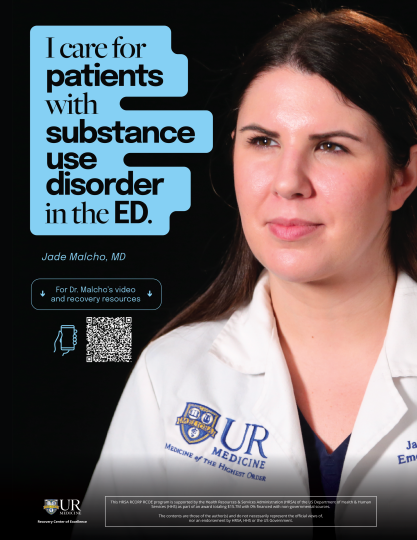 I'm Jade Malcho, I am a board certified emergency physician and board certified in addiction medicine. Patients that come to the emergency department who have opioid use disorder that have gotten to the point of wanting to seek treatment for opioid withdrawal, ended up coming to us for one reason or another in probably their worst day and they didn't know where else to go. And I think sometimes for emergency physicians we get frustrated, but we still see patients all the time who are an opioid withdrawal because these patients literally feel like they're dying. But when they feel so terrible and it's the weekend or it's the middle of the night and they really don't wanna use, they come to us and they wanna stop or something switched in their brain.
And then at that particular point in time they made a decision and they came to you. And you have the ability to be there at a critical moment to change their life. And if you meet them where they're at, at that point you can do that. Time is always in the back of our mind as a precious resource, and it doesn't always take that much time to take care of these patients but the small amount of time you spend with them, just make sure that it's...
Impactful in a way that is gonna leave them feeling like a human.
Jade Malcho, MD, an emergency physician certified in addiction medicine, expresses the opportunity to make a difference. "You have the ability to be there at a critical moment to change [a patient's] life," she says. "And if you meet them where they are, you can do that."