Opioid Addiction in Rural America
Friday, October 2, 2020 - 12:00 pm - 1:15 pm EDT
 This webinar has already occurred. The recorded webinar is now available.
Keynote Address
Dr. Seth Himelhoch will discuss work taking place at the University of Kentucky and in the surrounding region around access to care for people with co-occurring psychiatric and substance use disorders. This address will also focus on interventions for rural communities suffering from the consequences of the opioid epidemic.
About the Symposium:
The theme of this year's Department of Psychiatry Collaborative Care and Wellness Division Annual Symposium on Behavioral Health Integration is Treatment on Demand and the Ecosystem of Recovery: Helping Patients and Communities Recover from the Opioid Crisis. Throughout the month of October, presenters will discuss strategies for addressing the opioid epidemic with a focus on rural communities.
Presenters
Image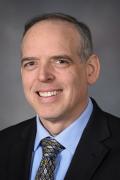 Seth Himelhoch, MD, MPH is professor and chair of the Department of Psychiatry at the University of Kentucky College of Medicine. He received his medical degree at the University of Michigan School of Medicine (1994) and completed his residency training in general psychiatry at the University of California, San Francisco (1998).