Bridging the Gap: Telemedicine as a Path to Primary Care Pharmacotherapy for Opioid Use Disorder
Friday, September 25, 2020 - 11:00 am - 12:00 pm EDT
Pharmacotherapy supports people with opioid use disorder (OUD) on their path to recovery. Also known as medications for opioid use disorder (MOUD) or medication assisted treatment (MAT), it involves prescribing an FDA-approved medication such as buprenorphine to decrease the cravings and the fear of withdrawal that drive opioid use. It is one of the most effective evidence-based treatments for OUD.
Patients may begin MOUD in a variety of settings. Initial treatment generally occurs in an inpatient or outpatient setting, with 3-5 times/week contact including therapy and social supports in addition to medication. After several weeks or months in this initial phase, visits are spaced out and patients transition to a medication maintenance phase and continuing care. This transition can be accompanied by the risk of encountering people or places that make opioids available to the patient. Therefore, continuing pharmacotherapy is critical to keeping the cravings for opioids at bay. Patients who have not been using have also lowered their tolerance and are at increased risk of overdose and death if they do use.
Access to maintenance MOUD is often limited in rural primary care practices for various reasons. The history of the opioid crisis, including past prescribing practices, has led to concerns among providers and community members. PCPs in rural communities also struggle with meeting the demands of a very large practice, often without adequate support.
In this webinar, Dr. Holly Russell and Michele Lawrence of UR Medicine Recovery Center of Excellence discuss telemedicine MOUD as a bridging strategy. They go through key questions involved in implementing a program, including:
How do we build the bridge?

How do we operate the bridge?

Where does the bridge lead to?
The bridge approach provides:
the community time to heal and develop trust 

physicians time to become trained in MOUD and build the care management infrastructure into their practice that is necessary to support chronic behavioral health conditions like OUD

patients with local access to the medication that is critical to their recovery and survival
A crucial element of a bridge program's success is that the providers giving temporary support be engaged with the community before and during the program. Engagement includes periodic visits to the community to meet with PCPs, treatment programs, patients, and community members. This builds mutual understanding and respect that ultimately creates a new foundation of trust on which to rebuild local access to care.
The webinar will include a discussion/Q&A period. We hope you can join us and look forward to your ideas and questions.
Presenters
Image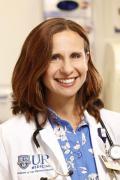 Holly Russell is Assistant Professor of Family Medicine at the University of Rochester Medical Center. Dr. Russell is board certified in Addiction Medicine and is the founder and director of the Addiction Medicine program at Highland Family Medicine. For the last three years she has been working on a project looking at how to expand access to treatment for opioid use disorder within primary care settings including the use of telemedicine technology.  ​
Image
As the assistant vice president of business development and assistant professor of community and preventive medicine at University of Rochester Medical Center, Michele Lawrence works closely with rural community hospitals and their medical staff to create financially viable health care delivery systems that improve access to care for these communities.