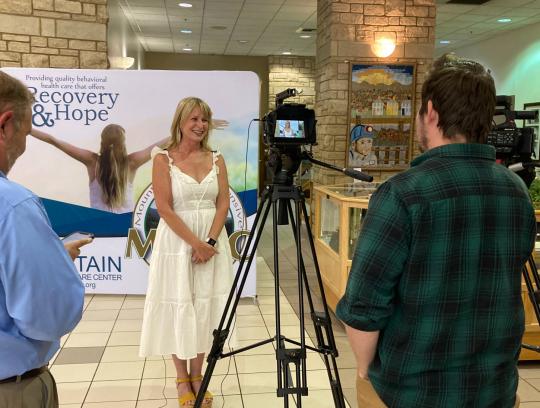 City of Prestonsburg Welcomes Art Campaign to Reduce Stigma and Combat Opioid Epidemic
June 17, 2021
Mayor Stapleton, Mountain Comprehensive Care Center, Mountain Regional Prevention Center, and others gather to kick-off UR Medicine Recovery Center of Excellence's new anti-stigma approach

Prestonsburg Mayor Les Stapleton, alongside Mountain Comprehensive Care Center (MCCC), Mountain Regional Prevention Center (MRPC), and other community stakeholders welcomed UR Medicine Recovery Center of Excellence (HRSA RCORP Rural Centers of Excellence) today to announce the start of a new campaign to reduce stigma through art, as part of a greater effort to reduce the impacts of the opioid epidemic in rural Appalachian communities.

The campaign will share real stories from individuals impacted by Opioid Use Disorder (OUD) to reduce stigma associated with OUD treatment. These stories, depicted through portraits by UR Medicine's artist-in-residence Charmaine Wheatley, will be displayed in a variety of public locations, and supported by evidence-based and community-centered workshops.

"After the initial meeting and frequent contacts with the UR Medicine Recovery Center of Excellence and Mountain Comprehensive Care Center, I think it is important that we celebrate the recoveries and successes of these individuals," said Mayor Stapleton. "This campaign gives people a sense hope and knowledge that there is an out."

Mountain Comprehensive Care Center and Mountain Regional Prevention Center have been coordinating with UR Medicine Recovery Center of Excellence for several months, but were only able to meet in person this May during the team's first outreach trip since the start of the pandemic.

"Sometimes we forget that we are all just people. We classify one another – particularly those affected by Substance Use Disorder – and then we do not see the very real person beyond that label. We are stigmatizing," said Christy Hicks, Mountain Comprehensive Care Center's Addiction Services Director. "This project is unique in that it seeks to tear us from our stigmatization so that we can see each other simply as people – a view that could help those struggling with OUD/SUD to feel encouraged and to seek treatment."

"MCCC's mission is to provide quality behavioral health care that offers hope and recovery," said Promod Bishnoi, MCCC President/CEO. "A person's experiences and success in their recovery may serve as an inspiration to others."

MRPC Director MaShawna Jacobs along with prevention specialists Maria Reynolds and Jennifer Lawson have been working closely with UR Medicine Recovery Center of Excellence and Mayor Stapleton's office to, in Reynolds' words, highlight the "positive and amazing progress of our community – one that is working to bring families together."
The stigma campaign applies the practices of education and contact through a combination of art and workshops in rural Appalachian communities. As community members engage in conversations about stigma, with art as a starting point, they can share knowledge and come away with ideas for increasing local access to treatment.

"Works of art can help us take a new look at persons affected by opioid use disorder. Once we see the person as an individual, we begin to lessen the stigma surrounding opioid use disorder," said Gloria J. Baciewicz, M.D., professor of Clinical Psychiatry, senior medical director of URMC's Strong Recovery program, and co-principal investigator for the UR Medicine Recovery Center of Excellence.

UR Medicine Recovery Center of Excellence, affiliated with the University of Rochester Medical Center's Department of Psychiatry was established in 2019 through a grant from the Health Resources and Services Administration. The Center is a resource for rural Appalachian communities, focused on connecting and supporting organizations and communities as they work to implement these best practices.

"UR Medicine Recovery Center of Excellence is incredibly humbled to be welcomed today by the City of Prestonsburg, Mountain Comprehensive Care Center, Mountain Regional Prevention Center, along with the providers, public servants, educators, and families of the Floyd County community who have joined us today," said Christine Lasher, Program Director for UR Medicine Recovery Center of Excellence. "After months of remote introductions and meetings, we were finally able to begin traveling and making the personal connections needed to truly understand our role as a Center. Our team was met with a warmth and enthusiasm that allows us to be here today as a partner and a resource to the people of Floyd County. We're hopeful that this campaign to reduce stigma through art will support the remarkable efforts of this community in the fight against opioids."