Image
A Campaign to Reduce Stigma
Individuals impacted by opioid use disorder (OUD) are meeting with artist Charmaine Wheatley to have their portraits painted. These portraits include the words of these Appalachian community members to humanize the crisis, thereby reducing the stigma associated with OUD.
Image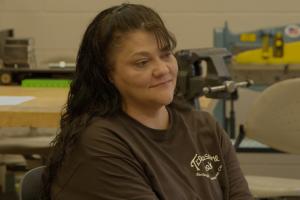 Melissa Handshoe is an artist, a mother, and an active community member in Knott County.
Image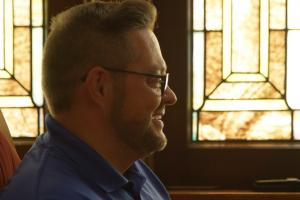 Shawn Allen is a community member and peer in Floyd County, Kentucky.
Image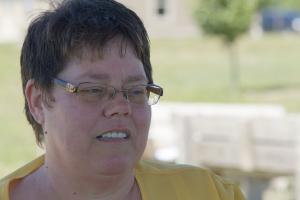 Reneé Ratliff is director of the Mountain Center for Recovery and Hope.
Stigma in rural communities
Opioid use disorder (OUD) is highly stigmatized, and this stigma stands in the way of our progress in the opioid crisis.1 In rural communities, individuals with a substance use disorder (SUD) such as OUD have less access to providers and resources. Stigma and a lack of anonymity are additional barriers to seeking care.2 Healthcare providers who have stigmatizing views may treat individuals with OUD differently or not offer certain services.3 Stigma stands in the way of patients' and providers' utilization of medications for opioid use disorder (MOUD).4
Stigma can negatively impact a person with SUD in many ways, including their mental and physical health, housing, work, and relationships.5 The pain and isolation from being stigmatized can also result in more drug taking.6
Research shows that stigmatizing beliefs around SUD can be reduced by bringing people into contact with a person who has the stigmatized medical condition and educating them about effective treatments and the potential for recovery.7 Education and contact that humanize people with OUD can shift attitudes and perceptions. Building awareness that OUD is a chronic, relapsing, yet treatable condition can help promote hope among individuals with OUD, community members, and healthcare providers.8 Efforts to reduce and address specific types of stigma include:
Educational opportunities for healthcare providers and support structures such as clinical supervision.

9

Education as well as contact have led to reduced discomfort, increased responsibility, and reduced stigmatizing attitudes toward people with OUD.

1

0
Marketing campaigns to educate the public about OUD and treatment, developed and implemented collaboratively in communities.

1

1
Churches supporting individuals and families impacted by the opioid crisis in the Appalachian region, recognizing and attempting to diminish stigmatizing attitudes.12
This campaign applies the practices of education and contact through art and workshops in rural Appalachian communities. It uses art to dismantle stigma and to humanize those affected by the opioid crisis. Volunteers affected by OUD have sat with artist Charmaine Wheatley and engaged in wide-ranging conversations in which they have shared feelings and life experiences. Fragments from these conversations are recorded in the watercolor portraits, which provide a starting point for dialogue about stigma and recovery. Community workshops are taking this conversation further: inspiring discussion that humanizes the crisis, sharing best practices, and sparking ideas for increasing local access to treatment.
The workshops are a creative opportunity to learn, discuss, and reflect on how to reduce stigma, biases, and negative perceptions. They will:
Develop a connection with the art to humanize people involved in the opioid crisis

Build a word bank to provide alternative, non-stigmatizing language

Foster relationships among workshop participants that can lead to ongoing learning and resource sharing in efforts to reduce stigma
Workshops are designed to be flexible so that both community and provider-based workgroups can utilize them. As groups engage in conversations about stigma, with art as a starting point, they can share knowledge and come away with ideas for increasing local access to treatment.
Gloria Baciewicz

, MD, FAPA, FASAM, Senior Medical Director, Strong Recovery; Professor of Clinical Psychiatry, University of Rochester Medical Center (URMC); Co-PI, UR Medicine Recovery Center of Excellence

Lisham Ashrafioun

, PhD, Assistant Professor of Psychiatry, URMC

Chris Cretelle, MBA, PMP, Senior Health Project Coordinator, UR Medicine Recovery Center of Excellence

Charmaine Wheatley, BFA, Artist in Residence, URMC
Our Technical Assistance Center is available to anyone interested in implementing or learning more about these workshops.
Notes