Collaborative Workflow
With engagement and coordination by a community health worker (CHW), a Transitions Clinic Network (TCN) program connects with individuals before or upon their release from incarceration into rural communities, supports them in their transition, and provides them with care for chronic health conditions and social determinants of health. For individuals with opioid use disorder, this care includes access to medications for opioid use disorder (OUD).
Image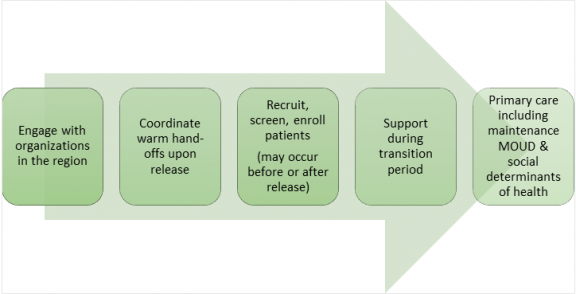 The TCN program develops relationships with carceral facilities and other criminal legal organizations (probation, parole, drug courts), inpatient and outpatient substance use treatment programs, community agencies,

Rural Health Clinics

,

Federally Qualified Health Centers

, and other groups.

Community connections lay the groundwork for collaboration, word of mouth, enrollment, and warm handoffs upon release (to a treatment program, transitional housing, other services/supports).

CHWs may recruit, screen, and enroll patients who are in jail/prison (in person or by phone/letter), in transitional housing, in inpatient or outpatient programs, on probation, on parole, or in court. This process includes obtaining medical records and consent.

Individuals who are receiving or need MOUD may transition to a treatment program with MOUD upon release. Upon treatment completion, they can receive maintenance MOUD through the TCN program. A patient receiving MOUD may require a very brief "bridge" prescription for the period immediately after release and before they begin the treatment program.

The CHW provides ongoing support throughout this process.
Return to learn page